Tools For Overland Cooking
When we travel there have been four main tools that we always seem to use. In order to maintain a healthy diet and keep our food costs under control, we do a lot of preparation of whole ingredients from grocery stores as we travel. In order to do this efficiently, there are a few basic tools that we always carry along. These are:
A restaurant style turner
A serrated peeler
An Asian serving spoon
A great chefs knife with case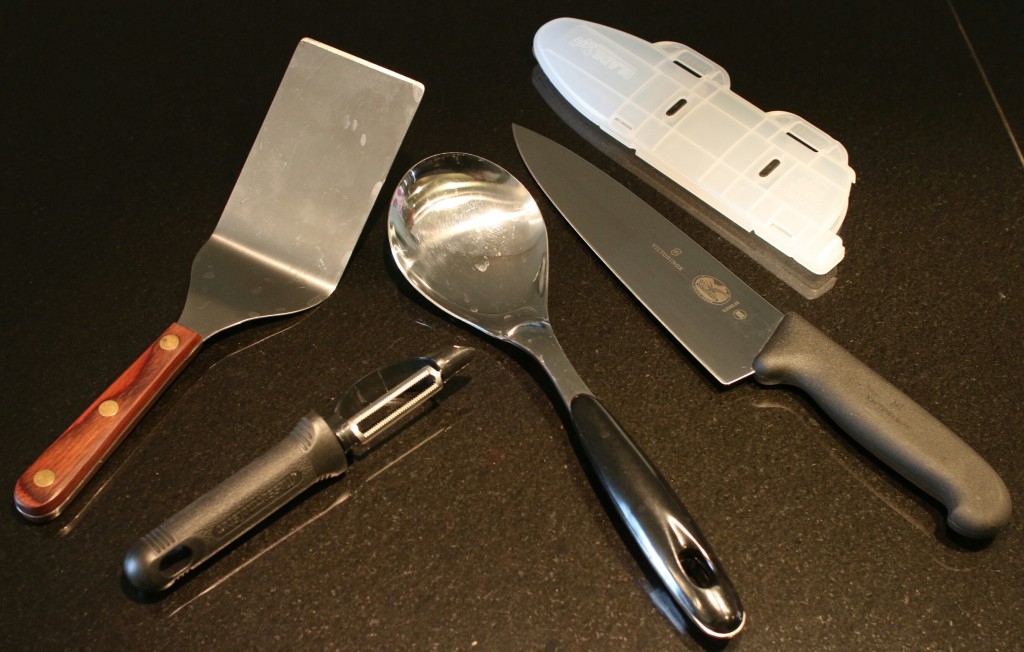 Our turner is very similar to this Dexter Russel 4 x 2.5 turner.  We love the sturdiness of this style turner, it is perfect for our cast iron cooking and works equally well in our 10 inch Lodge dutch oven and our 10 inch Lodge cast iron pan.
Our peeler is made by Messermeister and is quite simply the best peeler we have ever used.  Because it is serrated it is very aggressive and can peel even the toughest butternut squash as easily as a potato.
Our spoon has an overall length of only 11 inches which is why we love it.  We purchased ours at a local Asian grocery store however I have been unsuccessful finding the identical spoon anywhere online.  We did find a very similar item made by Update International.
The final item in the photo is our Victorinox 10 inch chefs knife along with the Victorinox blade cover.  The Victorinox knife has been reviewed many times over the past several years and is generally considered to be the single best value in an extrememly high quality knife available.  The grip of the knife is well designed and is made of a material called Fibrox which offers exceptional grip, even with wet slippery hands.
There are a couple of brands mentioned in this post that may be unfamiliar to many.  Both Dexter Russel and Update International Update are respected brands within the professional cooking industry, we have purchased and evaluated many of their items in the past.
In fact the best "budget" Chefs knife we have used is also from Update International, it will fit in the Victorinox blade cover mentioned earlier.  We also recently purchased  this timer  for travel in order to have a way to precisely measure pressure cooking time when using our pressure cooker.   We'll keep you updated on the pressure cooker and timer when we get the chance to take our next climbing trip.