Upcycling a Climbing Rope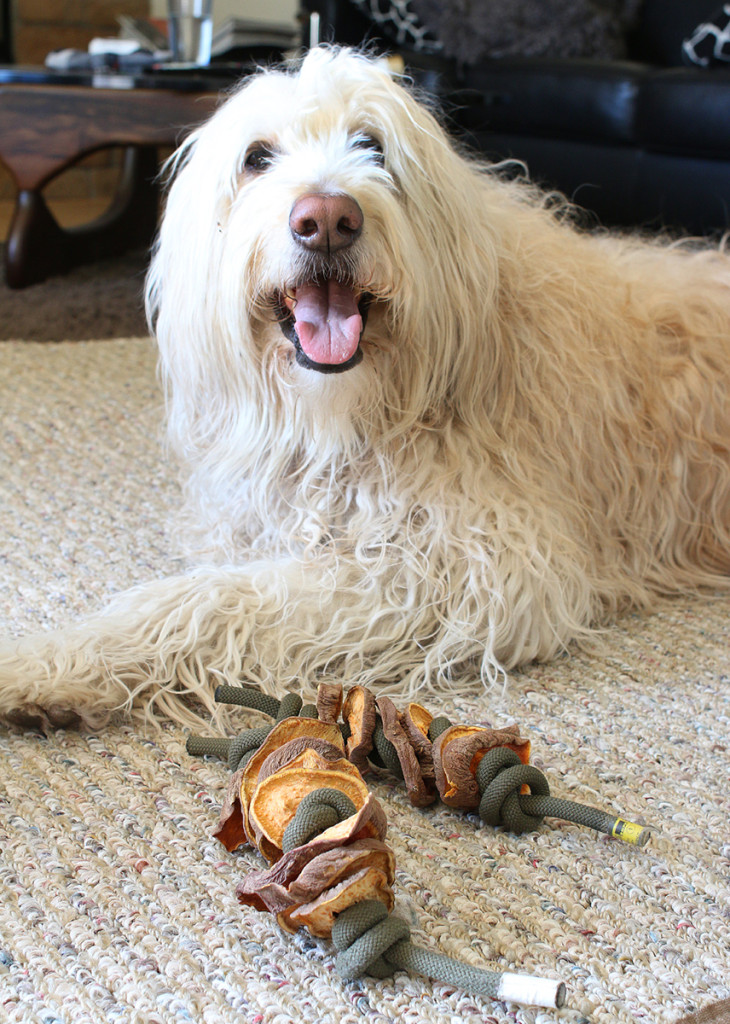 The Arkansas sandstone is our closest climbing area but these rugged crags can be rough on our climbing ropes. Recently one of our ropes was damaged about 8' from one end and we had to cut it off turning our 60m rope into a 57m rope. It is still useable for the one pitch crags in Arkansas, but I feel lucky that the damage was nowhere near the middle. That would have made the rope useless for climbing and would have resulted in us buying a new one or going home early.
Climbing ropes are made of nylon and they do not decompose in landfills. So having this piece around the house kept me thinking how to reuse it. Then it hit me. A dog tug toy!
As a parent of heavy chewers I try to supply my goldendoodle and giant schnauzer with toys that would last more than 3 minutes, keep them entertained, clean their teeth and not cost an arm and leg. I have found that my options are down to rawhide, kongs, rope toys or bones. The dogs get tired of them easily and I am always on the look out for more options.
First I thought I would just tie knots in the rope and make it into a tug toy. I know they would appreciate it but then browsing Pinterest I stumbled upon photos of dehydrated sweet potatoes. They looked dense, like chunks of wood and I thought that would be perfect combination with a rope. Sweet potatoes have tons of vitamins and fiber and they taste good. My dogs love sweets, just like me.
As you can see from the photos the project was success! The dogs love it! I hope we wont have another damaged rope anytime soon. However I am planing to make more sweet potato chips in the future and I now am looking for a more efficient way to dehydrate them.
Four medium to large sweet potatoes and 8 feet of rope made two medium size chew/tug toys.
Clean potatoes and cut them into slices about 1/2 inch thick. Cut a hole in the middle of each slice.  We cut a square hole using a paring knife but an apple core remover would work well also.
Spread on a cookie sheet or just straight on the oven rack.
Heat oven to 170 – 250 degrees.
Cook and turn them occasionally till they are hard. It took me several hours on 170F. Having a lower temperature and slower process keeps more nutrients in.  Also, if the temperature is higher than 250F the potatoes will cook instead of dry out.
Save earth and keep your dogs happy!
L.